April 21, 2021
Back
Associate Reflection – Mary Anne Hall – Sydney
The Sydney New Year has been filled with comments and gratitude. 2021 must be a better year!  In Sydney, we had a rocky start with the Northern Beaches lockdown and border closures.
However, as I write we have turned in the right direction.
Early in my work break our holiday was cancelled. In the third week of January, we took off for four days in our little trailer/sailing boat to the Myall Lakes. Knowing I was to write this reflection, it was wonderful to have a change of scenery from my usual day to day.
On our little boat I took with me many LCM writings, and the reflections so generously shared by Sr Helen, Bev Neill and Associates.
I also had with me our Motto for 2021 – "Touched by the grace of God… we turn entirely to God".
My time in the Myalls gave me an opportunity, invited by God, to "pause and listen with the ear of the heart once more " –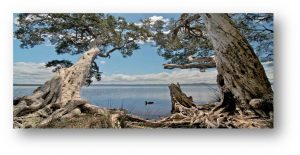 – surrounded by natural beauty, clear warm water to swim in, soaring trees with crumbly bark, black swans, pelicans, friendly ducks, and abundant bird song.  At night, the moon reflected on the water and millions of stars shone brightly.
I was reminded and overwhelmed with gratitude for the many "constants" in my life – these little holidays for one, and which have helped so much in weathering 2020. A year of incredible worldwide hardship for so many.
Late into the night and early morning the sound of foxes echoed on the foreshore. I worried about the swans and ducks sheltering in the reeds. That worry was a reminder for me.
"Kingdoms come and go. Creatures are born and live and die, but there is our God, unchanged by the transitory things in life".   Venerable Mary Potter.
I realised I and others are vulnerable too. That life will change and as the future unfolds and I and others I love and cherish are "rusting out" (Liz West LCM), a greater vulnerability awaits.
I realised the one constant is the gift of God, to be loved by God. Oh, how he has helped me in the past and reassures me going forward and into the future.
I have an opportunity to grow spiritually, pray and reflect with this knowledge.
I truly thank the LCM sisters and am so grateful for being a part of the Greater Company of Mary for this great gift.     Maryanne