November 10, 2021
Back
Associate Reflection – Kathleen Wall -Sydney North Associate. September 2021
Pastoral Care.
This lockdown has been for me a time to reflect on many aspects of my life and as the anniversary of my mother's death approaches, I have had a lot of time to reminisce as I sort through her photos. I have recently commenced as a Volunteer Pastoral Carer and would like to share with you some of the wonderful insights from my Spiritual Care course particularly on Spiritual Care of a resident with a diagnosis of Dementia.
Having cared for my own mother who was diagnosed with Alzheimer's type dementia I can remember the struggles with her losing herself, and how this impacted on those who either knew her or came into contact with her. How they responded to her and treated her was extremely challenging for both her and me to understand at times. This course has certainly given me the insight and steps to become a better pastoral person.
Dementia is a journey of memory loss. But our loved ones still hold inside them the things, hopes, dreams and beliefs that they can no longer express. WE are more than what we can remember, we may lose our functionality, but we do not lose our identity. We have purpose, meaning and hope. Patience, understanding, tenderness and homefulness will be my valued moments now with those I visit.
Our relationship with God is something deeper and greater than can be just expressed by words but is held within us as one of our greatest mysteries. The fact that we can no longer express our thoughts, lose our memory or are unable to communicate does not mean we have lost our relationship with God. It dwells within our personhood forever and exists in our being from our past and will remain with us in presence.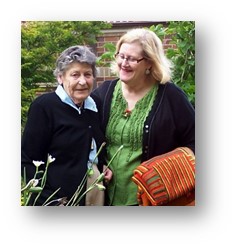 I remember just because we lose our story does not mean we lose ourselves; God is always with us in the deepness of our being, and I remember using this mantra every day I worked as a nurse to remind myself of the importance of care and respect for those residents ……including my mum.
Dear Lord Jesus,
I don't know who I am,
I don't know what I am,
I don't know where I am,
but please love me.
  (Author unknown)