November 24, 2021
Back
Associate Reflection, October 2021 Ann Bodkin (Wagga Wagga)
Saturday 25th September 2021 was a lovely, beginning Spring day in Wagga Wagga. It was the day that the LCM Associates and some of the Sisters were joining together for a Reflection Morning, to be facilitated by Sr Leone Pallisier, an Ursuline Sister from Sydney.  Beverley Neill, our Associate Coordinator organised the morning and we joined one another via Zoom. The group heralded from Sydney, Melbourne, Wagga, Yass, and Canberra.
The theme of the reflection morning was "Ministers of Your Love".
Throughout the morning we covered many of the aspects of the connectedness of women.  A week after the reflection morning, I witnessed the power of interconnected women; women coming together to provide support and love to a person in need.
A young woman was returning to her hometown following a traumatic family disruption. She was travelling from interstate with her children, trying to reach her new home before night fall, when she was pulled over by the police, to check her vehicle. The police found that her car was not registered, and her licence had been suspended. Through tears of frustration and embarrassment she tried to make sense of it all.
Turns out her husband was waiting till the last minute to pay the registration, which was quickly rectified by internet payment. However, she couldn't drive because her licence was suspended.
The young woman rang a friend in another town, 100 kilometres away, and said she was stranded. The friend did a quick ring around and found two other ladies who volunteered to drive with her to pick up the young woman and her family.
When the group arrived back at the new house, there wasn't a tear to be seen, just love and happiness. The children were not traumatised, they saw the situation as an adventure.
These women were truly "Ministers of Your Love ".
Reflecting on the story, I have taken this prayer/hymn (Remembering Heart, Monica Brown), from the reflection booklet provided by Sr Leone: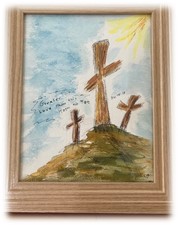 HEALING IS YOUR TOUCH
 Healing is your touch, O God
Renewing the Spirit of the broken.
Healing is your touch, O God
Renewing the spirit of the broken.
"Greater love than this hath no man" –Jn 15:13