April 30, 2023
Back
Easter Reflection April 2023 – Sr Helen Kelly LCM
As I reflect on the LCM diary this evening for February 12th, I see the words 'The Will of God is the melody of earth, and our wills should harmonise with this sweet melody' (written in a Sister's Rule book) and yesterday we celebrated the Feast of Our Lady of Lourdes with an anointing Mass at our local Parish of St Thomas More at Brighton-Le-Sands. Fr Manuel anointed each of the congregation and, with proxy words, extended this Sacrament of the Sick to our sisters and LCM family and friends who are sick throughout the world. We prayed also for those suffering and dying in Turkiye and Syria from the recent earthquake; so many lives lost and some miracles too, as some were found alive beneath the rubble.
I was reminded of my visit to Our Lady of Lourdes Grotto at Lourdes enroute to an LCM heritage programme we attended at Greenwich, where I remember messages written and the only one in English were the words 'Do whatever he tells you' (Jn:2: 5-8).
This programme included a visit to the places that were a special part of Mary Potter's life and the foundation of the Little Company of Mary; the Heritage Centre Nottingham, the Church of Our Lady of Good Counsel, Genazzano in Italy, where Mary Potter prayed after seeing the sisters off to Sydney from Naples and where she received what she called a great "Grace", when good health was restored to her, enabling her to continue carrying out the work of Little Company of Mary, to pray and care for the sick and dying, as Mary did for her Son on Calvary.
On Ash Wednesday we began another journey with Jesus following His footsteps to Calvary on Good Friday, standing with Mary beneath the Cross of her Crucified Son as we too carry the sufferings of our world and all of creation.  For the Earth is what we all have in common, held by our Loving Creator, with our Charism to pray and care for the sick and dying of our world and those whose lives we touch each day.
On April 9th this Easter Sunday, we read the words of Venerable Mary Potter written shortly before her death, "It is finished." "Most beautiful words, sweet Jesus! It is finished! Can it be this world is finished for me? What happy work! Was it weary work? Ah, no- Thou hast lived in me, and I have laboured from Thine indwelling in me, and my labours have been labours of love".
As our Sisters travel to the LCM Congregational Chapter in Knock, Ireland this Easter Sunday each of us, Sisters, Associates and Affiliates playing their part in its preparation, we have contemplated the spirit of Mary Potter in our lives and where we are being called to in our living out of the Mission of the Little Company of Mary in today's world; called to pray and care for the sick and dying, following in the footsteps of Mary Potter, the work she described as 'labours of love', with the theme for our Chapter, 'Let Love Lead'.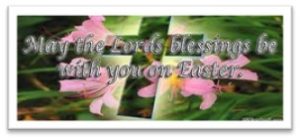 'We live in the joy of the Resurrection. It should be a fresh joy to us each day.' (The Human Life of Jesus – Venerable Mary Potter)