November 30, 2020
Back
Reflections on the Spirituality of The Little Company of Mary
As we are called to explore the meaning of mercy in our lives we have gratitude in our hearts that are touched by our God of love.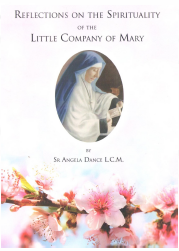 Angela Dance was a woman of great heart. In 1984, she wrote this reflection on our LCM Spirit, and its message is one for all time. Recently rediscovered, its rich wisdom, gentle challenge and encouragement to truly live our spirit is a message that can shape our heart and hands to express a word of Mercy for our world.
With care and commitment, Sheila Scott from our Region Administration Centre, with the assistance of a graphic designer and printer, designed this booklet to encourage one to be drawn into the message. And Angela's words reveal the beauty of our spirit, it's "everyday-ness" for a world that aches for a touch of love.
To obtain a copy of this book, please e-mail Sheila