July 8, 2022
Back
Eulogy: Sr Mary Glowrey LCM
"God Alone"
Sr Mary died peacefully at Calvary North Adelaide Mary Potter Hospice on 2 June 2022.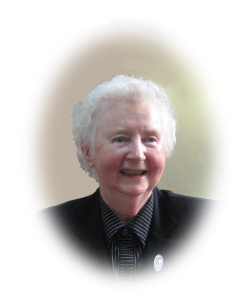 Sister Mary was born on 28th June 1928, in Swan Hill, Victoria, she was the eldest of four children. After completing her secondary education, Mary worked on her parents' farm property and undertook a commercial certificate so she could help her father with the accounts. She described these years as a time that she enjoyed doing the normal things that teenagers do. She had little interest at that time in religious life, so when she made the decision to enter it happened all of a sudden.
Mary was determined that she would not enter a teaching order for fear they would put her in front of a class, as she dearly wanted to be a nurse. She looked
around  and as the Providence of God would have it, she came upon a pamphlet at the back of the church on the 'Slave of Mary'. She thought "this is for me" and set about finding where the Sisters were located. She soon discovered that there was a community in Melbourne, so she went to Melbourne to meet the Sisters and as Mary described "that was it" .
She entered the Little Company of Mary at Lewisham in Sydney on the 28th December 1947 and made her First Profession of Vows on 11th October 1950, taking the name Sr Mary Gerard. She made final vows on 11th October 1954 and took as her Motto "God Alone".
In her early years as a religious, Mary nursed at Lewisham and then went to Calvary Hobart to undertake her Midwifery and Child Health certificates. This was an area of nursing that Mary loved, and there was many a baby named after her. She was still receiving cards from "her babies" some 40 and 50 years later.
In 1966 Mary was sent to Rome to undertake a theology course at Regina Mundi. On her return she was appointed as the "Juniorate Mistress" being responsible for those Sisters who had made their first profession of vows. During these years Mary always showed concern and compassion for the Sisters and is fondly remembered by them for her support, understanding and care. Mary shared her own spirituality, and that of Mary Potter with the Sisters, that same spirit she continued to share throughout her life and ministry.
Mary undertook many significant responsibilities, both in health care and the LCM Community and was always available for those she cared for, in whatever ministry she undertook. Returning to Adelaide in 1993 she completed a Pastoral Care Program, and remained there ever since, as an integral part of the LCM presence and support at Calvary Hospital, North Adelaide.
Mary always enjoyed being with people and had shown a great interest in the lives of her family and the people with whom she ministered, and indeed the wider world. She had some unique qualities that endeared her to people. When she was ministering to those in hospital, it was important for Mary to know people by name and something about each one.
A true daughter of Mary Potter who inspired others to be the best they could be. Her encouragement of others, especially in difficult times, was always much appreciated, as were her regular undertakings to pray for people who had a special need. Mary had a perceptive understanding of the vulnerability encountered by young and old in their journey of life. She had a great love of Mary, the Mother of God that had been instilled in her from an early age by her parents. However, it was later in her religious life that she realised just how important Mary had become in her own life. When asked how the spirituality of Mary at the foot of the cross spoke to her? she responded – "through prayer and being for others."
As an LCM woman, Mary lived the spirit and Charism entrusted to us by Venerable Mary Potter. Her vowed life of nearly 72 years was her gift to the LCM and the Church.
We will miss you Mary, and your bright smile, but rejoice that God has taken you to Himself. May you rest in peace.
Edited text of funeral eulogy composed by Sr Kathleen Cotterill LCM, Region Leader