November 30, 2020
Back
Sr Helen Kelly and her ministry as a volunteer with St John Ambulance
I have enjoyed volunteering with the local Ryde Division of St John Ambulance in being part of its First Aid Service and attending community events for the past 12 years.  Although, not as many events this year due to COVID 19, we have been kept busy training new members to be event ready.  I am the new member liaison and part of the management team.
2020 has been a year with a difference due to a prolonged drought and unprecedented bushfires on many fronts.  These bushfires resulted in homes and lives being lost as well as native animals being displaced in many States and Territories.  The COVID 19 Pandemic followed these natural disasters with border closures resulting in both International and Domestic flights being severely disrupted and cancelled.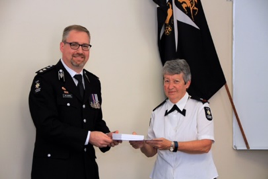 On 21st November 2020, our Ryde Division celebrated the 2020 Awards Ceremony (COVID Safe with the implementation of Social Distancing).  The presentation of Service Awards were received by members who had given between 5-35 Years of Service as well as citations from both St John Ambulance and the Premier's Department.  The Awards were received due to our involvement in bush fire deployment at evacuation centres throughout NSW.  This occurred in early 2020.  The Awards were presented by our St John Ambulance Local Hub Leader and Deputy Commissioner.  All of course, in a COVID safe way with just 13 people allowed at the division.  Zoom Conferencing was available to allow participation by family members.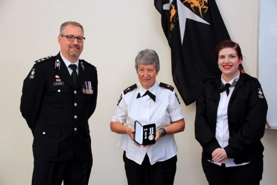 With St John Ambulance public events reduced due to COVID restrictions members have been involved in supporting the hotel quarantine and temperature checking stations.  Junior AFL has also been supported with strict guidelines to keep both members and the public safe.  There has been an increased interest of young volunteers, so with Zoom Training and essential face to face training sessions at our local division we are able to be fully engaged to have event ready new members in St John Ambulance.  We are adapting to the needs of our community with the new normal.