July 6, 2022
Back
Eulogy: Sr Marita Breen LCM
"God wills it."
Sr Marita died peacefully at Nazareth House on 10 April 2022.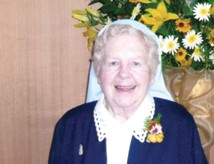 Mary Gwendolyn Breen was born in May 1930 in Eketāhuna, to John and Marita Breen. She was born into a family of eleven children, six girls and five boys. The family later moved to Stratford in South Taranaki.
After secondary education Mary undertook office work before moving to Auckland, where she completed her Registered Nurse training at the Mater Hospital. In 1955 she traveled to Australia and entered the Little Company of Mary Novitiate at Lewisham in Sydney. When Mary received the habit, she was given the name Sr Marita. In 1960 she transferred to Calvary Hospital Tasmania, where she trained as a midwife. She returned to New Zealand in 1961 and was Finally Professed. Her motto was "God wills it."
Marita nursed in all Calvary Hospitals in New Zealand. She held the position of Matron in Hawera and Invercargill.
In 1986 she moved to Christchurch and a change of ministry followed. She completed a Course in Pastoral Care and for 20 years, administered to the residents and staff of Mary Potter Home and Hospital, a role she loved. She also coordinated the Greater Company of Mary and was a member of St Mary's Parish Catholic Women's League, until ill health and mobility issues meant it was time to retire from involvement in active ministry.
Marita had a very outgoing personality. She enjoyed being with people and had many friends. She liked to be occupied and, apart from nursing and pastoral duties, was a wonderful cook. She was also a very talented knitter, and crocheted many beautiful items for friends and others.
We would, however, be mistaken if we measured Marita's life in terms of "things done" and external achievements. The real measure of her life is its richness in the sight of God, because God has been the focus of her life. Marita's commitment to the LCM charism, her daily prayer for the suffering and dying and devotion to Mary have never wavered.
Marita resided at Nazareth House for the last six years. With gratitude we remember the Nazareth Sisters, their staff, Shona Lowson, and Marita's family, who have all loved and supported her over the years. May she now rest in peace after a long life lived for Jesus and always in the company of Mary.
Sr Helena Kearns LCM