March 3, 2023
Back
Mary's Mount in Christchurch
March 3, 2023
| Uncategorized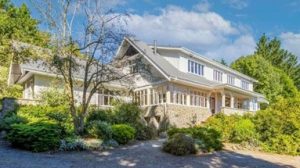 A few months ago we learnt our previous holiday home was up for sale.  When the Christchurch Community was large and before 'holidays at home' permission came to pass we spent very happy holidays and retreats at Mary's Mount.  It was sold in 1977 to a family who lived at the property until 2022; they retained the little Chapel pews and all!
In 1924 the Sisters were given the property, situated on Marley's Hill Cashmere overlooking Christchurch and with a clear view of the Southern Alps by Sir George Clifford.  A beautiful, spacious three-storey home was completed in 1927.  Old pine trees line the long driveway to the house ensuring privacy.
We were alerted to the sale – indeed Mary's Mount appeared in print in the daily Press.  Three of us went to an Open Day to view our old and much-loved property, we were among hundreds of interested local people.  Many changes and updating had taken place including a new, modern kitchen.  The five upstairs bedrooms were unchanged and the carpet on the stairs (now well worn) was familiar!  Outside a separate housekeeper's lodge and tennis court were new to us.
A memory:  I recall a time when three of us went to Mary's Mount during winter for a weekend.  On Sunday we wakened to discover heavy snow had fallen overnight creating a white wonderland.  No Mass for us that memorable Sunday and it was Wednesday before it was safe to drive home down the hill.  What a wonderful extension – even if we were down to the last of our rations!
The house and property sold at auction.
By Sr Helena Kearns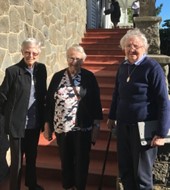 Srs Helena, Raye and Catherine outside the house