July 12, 2021
Back
Diamond Jubilee Sr Justina Gaudron LCM – April 2021
July 12, 2021
| Uncategorized
A time of joy-filled celebration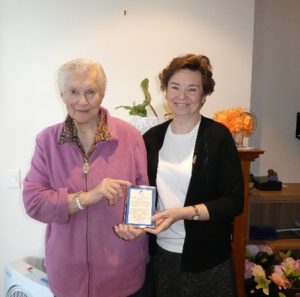 On 26 April 2021 Sr Justina Gaudron LCM celebrated her Diamond Jubilee with LCM Sisters Ryde, family members, Sr Kathleen Cotterill LCM and Sr Monica Whelan LCM.
Justina's brother and sister-in-law travelled from far North Coast of New South Wales to be with Justina on her special occasion.
We commenced with a Eucharistic Celebration of Thanksgiving celebrated by Fr Kerry Bayada and Fr Terrence Bell. It was a very prayerful time of gratitude for Justina's 60 years of Religious Profession. Pastoral Care Staff ensured the preparation of the celebration of Eucharist happened well.
Sr Kathleen Cotterill, Region Leader, presented Justina with her LCM Blessing. At the conclusion of Eucharist a lovely morning tea organised and served by staff of Family Care Services (FCS) was enjoyed by us all. Our gathering was joy-filled with a beautifully decorated cake to conclude the time.
It was a very lovely warm day and we were blessed to have this time of celebration with Justina.
As Justina's time of celebration came to completion Sr Kathleen Cotterill shared a Reflection in gratitude for Justina's commitment as a Sister of the Little Company of Mary. Justina was very grateful for her day and extended her thanks to all, especially staff of LCM Residential Care Ryde.
We remembered especially Sr Mercia Hoy LCM Melbourne Community who celebrated her Diamond Jubilee with Justina. Justina and Mercia also shared their memories of entering together with Cecilia Mulcare RIP during the time of continued celebration.  Congratulations Justina! Thank you.
Sr Monica Whelan LCM Region Leadership Member