Mary Potter: Detailed History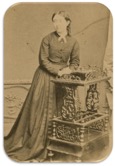 This young lady is Mary Potter.  She is the youngest child of William Norwood Potter and Mary Anne Potter (Martin).  She has four brothers.
When Mary's parents married in 1828 they were both Anglicans, but before Mary was born her mother became a Catholic.  Against the wishes of her husband Mrs Potter had her four sons and Mary baptised Catholics.  Mr Potter was very upset about this and many arguments took place in the home.
In England at this time the Catholic Emancipation Act (1829) had not long been passed, and Catholics were only just beginning to practise their religion publicly.  Before then, Catholics were virtually outcasts from society, so one can understand how disturbed Mr Potter could have been about his sons being raised as Catholic.
About twelve months after Mary was born in 1847 a relative made a will by which money was left for Mrs Potter and the children.  For reasons unknown Mr Potter was excluded from administering the money.  This caused him to become very angry, and one evening after a heated argument with Mrs Potter he walked out of the home and never returned.  Later Mrs Potter heard that he had gone to Australia.  At first, she thought he would return.  Mrs Potter waited and hoped for this to happen, but he never did.  Nor did Mr Potter even communicate with her.  Years later Mrs Potter read in a magazine that Mr Potter had died in Australia.  Little is known of the details of Mr Potter's life after he left England.
The four boys and little Mary (who was a delicate child) grew into adulthood under the strict yet loving guidance of their mother.  Mrs Potter was in many ways over-protective of her children, but especially Mary, who was the darling of the family.
It was against this background that Mary grew into womanhood.  When she was about 19 years of age she became engaged to a young man, Godfrey King.  He was a friend of Mary's brother, Thomas.  Godfrey was a very serious young man who had tried his vocation in a Trappist Monastery.  Mary had a kind heart and a very happy disposition.  Her brothers loved Mary and so did Godfrey.  She was always kind to Godfrey, and when he asked her to marry him Mary agreed, thinking how they would be able to do so much good together.
But one thing about her worried Godfrey – he wished that Mary was not so frivolous.  Godfrey asked her to read some spiritual books which he provided for her.
When Godfrey came to her home, he never saw Mary alone, there was always someone present.  She knew this was not normal and it worried her.  Mary began to wonder that perhaps she was not meant to marry Godfrey.
Poor Godfrey, in his efforts to quell Mary's light heartedness through spiritual reading, he had opened to her the way that led to the fulfilment of God's plan.  In his zeal Godfrey helped Mary to appreciate the importance and the power of prayer in union with the Blessed Virgin Mary, and to aim for spiritual perfection.
The more she read the deeper Mary's love of God became.  Mary desired to serve God in whatever way He called her.
If not marriage – what?
Feeling perplexed at not being able to come to a decision by herself, Mary travelled to Southwark to see Bishop Grant who had always been a dear friend to her and her family.  Mary confided to the Bishop all that taken place – her engagement and the plans she and Godfrey had for their future, all the different things that had happened over the past months.
Listening to her, Bishop Grant realised that marriage was not meant for Mary – at least not an earthly marriage.  The Bishop advised Mary to break off her engagement with Godfrey because, he said, "The only spouse for you is Jesus Christ".
Mary was very sad about having to tell Godfrey that they were not to marry.  She hated having to hurt Godfrey, but after having listened to Bishop Grant, Mary knew that an earthly marriage was not for her.  Godfrey was very upset, but finally accepted the fact that Mary was being called to something different.  Bishop Grant spoke to Mrs Potter who was very displeased with Mary for breaking the engagement.  The Bishop advised Mrs Potter that Mary should become a nun, and that he would arrange for Mary to go to the Sisters of Mercy at Brighton to test her vocation.
Mary entered the Sisters of Mercy for the purpose of discovering what it meant to be a religious.  Bishop Grant advised this so that Mary would have the opportunity of living in a religious community.  The Bishop spoke with the superior of the Sisters of Mercy who agreed to take Mary into the Novitiate.  Mary remained there for about eighteen months.
Although Mary did not feel an attraction to the Mercy Congregation she was always an exemplary novice.  The question arose as to whether Mary should make vows as a Sister of Mercy.  After making a retreat with Father Lambert SJ, Mary was advised by Father Lambert that she definitely had a vocation to religious life, but not as a Sister of Mercy.  Acting on his advice, Mary returned to her home.
Because of the physical strain of religious life and Mary's courageous efforts to persevere, her health, which was never very robust, deteriorated.  Mary was very ill for two years and during these years she had many spiritual experiences.
In the solitude of her home Mary suffered greatly.  She missed visiting the Eucharistic Presence in the convent chapel; and being ill did not help her.  Mary's mother and friends expected her to take up life where she had left it before entering the convent.  Godfrey King renewed his offer of marriage.  However, Mary now knew that she could never undertake an earthly marriage, and as a result she suffered much from their lack of understanding.
Mary spent hours in prayer and meditation before a small ivory crucifix that hung on the wall in a room where she rested during the day.  It was here that Mary received the inspiration from God as to what He was calling her to do.
When Mary was well enough, she used to visit the Chapel at the Military Garrison, Portsmouth.  Around this time Monsignor Virtue was appointed as chaplain at the Military Garrison.
Monsignor Virtue was concerned about the children at the Garrison and asked Mary to take them for Christian instructions.  Mrs Potter made available a room in their home and Mary commenced to teach the children.  Mrs Potter also helped by teaching some of the children music.  Mary conducted the school for three years, and during this time she grew physically and spiritually stronger.  Mary's one aim in life was to know and do God's will.
Mary was looking for a book which would help her to be aware of her desire and to aim at perfection in all that she did.  One day she came across Father Faber's English translation of St Grignion de Montfort's 'Treatise on True Devotion to the Blessed Virgin'.  Mary read it but was unimpressed, even disappointed.  The only thing that stood out in her memory was the list of all the eminent ecclesiastics who so highly praised the book, but Mary neither understood it nor wished to do so.  This worried her, and so Mary took up the book again and prayed for the grace to understand it and to obtain from it some help for her spiritual life.
Mary prayerfully read the book over and over again.  Each time she found more and more in it, so much so that after a few months Mary asked Monsignor Virtue's permission to consecrate herself entirely and forever to Christ through the hands of His Blessed Mother.
This Mary did, and the daily living of this consecration would be the secret of her spiritual progress from that day forward.
Monsignor Virtue was very kind to her, but because she felt it difficult to speak of the spiritual experiences she was having, she wrote to him.
The Monsignor never answered Mary's letters in writing; but encouraged her to continue to unfold to him what was taking place in her soul.  Monsignor Virtue did not always seem to understand Mary, and this caused her great suffering.
At this time God was revealing to Mary what He wanted her to do.
This was a time of great confusion for Mary.  Sometimes she wondered if it was God or the devil inspiring her?  Mary felt the only way was for her to be obedient to the one spiritually directing her.
It took a couple of years before the plan of what Mary felt God wanted her to bring into being was completed.
Mary waited to hear from Monsignor Virtue.  While she waited Mary wrote her first book, 'The Path of Mary'.  She sent the Monsignor a copy, and in an accompanying letter, Mary entreated him to respond to her letters.
The Monsignor did respond one day by handing the manuscript of 'The Path of Mary' back to her, telling Mary that under pain of mortal sin she was to put the whole plan out of her head.
Mary could not understand the Monsignor's change of attitude.  Mary wondered should she change her spiritual director, but she decided against doing this.
Not long afterwards Monsignor Virtue was appointed Military Chaplain at Malta.  Before leaving Portsmouth he recommended a priest to be Mary's spiritual director.  This priest did not wish to take this responsibility on himself, so he sent Mary to Bishop Dannell.  The Bishop was most understanding and gave Mary permission to interest others in praying for the dying.
Mary asked Monsignor Virtue to return her letters to her.  The Monsignor refused and told Mary they were to be destroyed.
Soon after this Mary was introduced to Father Selley, a Marist Priest, who became very interested and helpful to her.  Mary confided everything to Father Selley, her hopes and fears, and told him what Bishop Danell had given her permission to do.  Yet everything went wrong.  The Bishop thought that Mary had disobeyed him.  The Cardinal to whom she went for help gave her no encouragement, and Father Selley was forbidden by his superiors to direct her.
Mary was alone again, except for the few women she had gathered to pray for the dying of the world.  They were her only comfort during these days.  Mary's brothers did not understand her fully, and in trying to be helpful caused her more trouble by talking to the Bishop and the Cardinal on her behalf.
Father Selley had read Mary's manuscript, 'The Path of Mary', and through her friends arranged for its publication.
This little book fell into the hands of Mr Young, a pious old man.  Mr Young offered to provide finance if the authoress would do something to further devotion to Our Lady in Lincolnshire where he lived.
Around this time George Potter (one of Mary's brothers) advised her to go to Nottingham to see Bishop Bagshawe, whom he thought would be interested and might help her.  Mary tried in vain to get her mother's permission to leave home.
In January 1877, with assistance from her brother Henry and sister-in-law Marguerite, and without her mother's knowledge, Mary travelled by train to Nottingham.
After long hours in the train, during which one can imagine Mary has some misgivings about what she had done, Mary arrived in Nottingham.  As she left the station the thought uppermost in Mary's mind was 'where was she going to spend the night?' Mary made her way towards St Barnabas' Cathedral.  After making enquiries she found lodgings in a house in Derby Rd not far from the Cathedral.
The next morning Mary had her first interview with Bishop Bagshawe, who was very kind and interested in her thoughts and plans.  The Bishop asked Mary to return the next day, which she did.  The Bishop then told Mary to see if she could find a place in which to make a start with her work, mentioning Hyson Green which was a poor area a couple of miles out of Nottingham.  That, he thought, would be a good district to commence the work that Mary wished to do.
Bishop Bagshawe asked Mary if there were any others who were prepared to join her?  If so, would they write a letter to him?  Mary wrote to her two friends, one Mrs Elizabeth Bryan (a widow), and the other Agnes Bray, asking them to write to the Bishop.
Father Selley, on hearing what was happening, wrote to Mary requesting her to ask the Bishop to invite him to Nottingham.  Mary thought it best not to do this.  Mr Young, the gentleman who offered finance to her, on hearing that Father Selley was not to be involved at this stage, withdrew his offer of financial help.
Mary was feeling a little worried by this time.  She was lonely and had very little money, but she never faltered in her purpose.  Mary set out from Nottingham one morning for Hyson Green to see if she could find a place to start her work.  As she trudged along Mary must have felt apprehensive, for the further she moved away from the city the more desolate the area became – it was an industrial town and very poor.
As Mary walked up one street and down another making enquiries as to where she might find an empty house, she met an Irish lady called Mrs Tacey.  Noticing how frail and tired Mary looked, Mrs Tacey invited Mary into her house to rest and have a cup of tea.  Mary asked if she knew of any place vacant in the area?  Mrs Tacey told her that there were no houses available, but that she knew of an old tumble-down factory nearby, saying that it was not fit to be lived in.  Mary wanted to see the factory, and when she did Mary decided 'yes, this is where we will commence our work'.
Mary returned to Bishop Bagshawe with the news of her find.  After the Bishop inspected the proposed convent, he told her to lease the property in his name and he would pay the rent and taxes and provide any furniture Mary would need.  Mary was very happy and wrote again to her friends Mrs Bryan and Agnes Bray telling them to come to Hyson Green.
The two friends joined Mary at Hyson Green in March 1877. The renovations of the old factory were well on the way to completion.  The factory's roof and windows were mended, and the little chapel furnished. There were no beds at the start, so the women all slept on the floor.  They carried chairs from one room to another as needed.
A third woman arrived in May 1877 – Eleanor Smith. These three women later became Mother Magdalen Bryan, Mother Agnes Bray and Mother Cecilia Smith.  Within a couple of weeks Edith Coleridge arrived and she became Mother Philip Coleridge.
Mary Potter chose the name Little Company of Mary for the group.  Bishop Bagshawe told Mary that she was to be the Superior, and on the Feast of the Precious Blood (2 July) he gave the habit and blue veil to these first five members of the Little Company of Mary congregation.
Within two weeks the Bishop, deposed Mother Mary (as Mary Potter was now called), and made Mother Magdalen the local superior, and himself the director and confessor of the community.  He sent Mother Mary out to beg.  Mother Mary was later made the novice mistress under the direction and authority of Mother Magdalen.
This situation continued for about two years.  With the strain of the work and the anxiety of what was happening to the ideals and charism of the Little Company of Mary, Mother Mary's health began to fail.  The frail little figure was well known and loved by the people of Hyson Green and further afield, for there were times when she was asked to go to more distant towns to beg for alms to enable the Sisters to carry on their work for the poor.
Mother Mary never complained, but in early 1878 it became apparent to Mother Philip, who was a trained nurse, that all was not well.  It was then discovered that Mother Mary had a large ulcer on her breast.  The doctor was consulted, and he ordered immediate removal of the breast.  It was malignant, but because of Mother Mary's poor health it was not safe to give her a deep anaesthetic.  As a result, it was a very difficult procedure for the doctor and painful for Mother Mary.  She suffered greatly but always with patience and gentle concern for those who were attending her.  A few months after the operation it was discovered that Mother Mary's other breast was also malignant; the doctor had to perform a second mastectomy under the same conditions.
After Mother Mary's first operation, it became obvious to Bishop Bagshawe that things were not right in the community.  He decided to summon a chapter for the election of a local superior.  At this chapter, on 12 February 1879 Mother Mary received all the votes of the Sisters and was reinstated as superior of the community.  Soon after, Mother Mary opened two small missions, one at Quorndon (now Quorn), the other at Eastwell.
Because of all the physical and mental hardships Mother Mary had experienced over the past couple of years, her health was at a low ebb during 1880.  When visiting one of the missions Mother Mary contracted scarlet fever.  She was very ill until the end of the year.
Whilst Mother Mary was ill, Bishop Bagshawe opened two more missions, and sent very new members of the congregation to work in them.  This caused Mother Mary great anxiety because these Sisters were very young and inexperienced.  As the Bishop was her higher superior, Mother Mary could do nothing about it.
Mother Mary had one great desire.  She longed to go to Rome to seek the blessing and approval of the Constitution of the Little Company of Mary by the Holy Father.  At first Bishop Bagshawe would not hear of it.  After frequent requests from Mother Mary the Bishop reluctantly gave his permission, on the condition that she would take two Sisters with her to take care of her on the long journey.  It was arranged that Mother Philip and Mother Cecilia should go. The Bishop granted permission to Mother Mary as he believed that he "was granting the final wish of a dying woman".
Mothers Mary, Philip and Cecilia set out for Rome on 24 September 1882 and arrived there the following month on 10 October.  The trip was a difficult and anxious time for the two companions, to say nothing of what Mother Mary herself suffered.
On their arrival in Rome an audience was arranged for her with the Holy Father, Pope Leo XIII.  The Holy Father invited Mother Mary to stay in Rome, to bring more Sisters and to commence her work in the Eternal City.
This made Mother Mary very happy, but her health was so poor that many times her companions thought she was about to die.
Though she was so ill Mother Mary's one aim was to establish this work that God had called her to do; to live in union with Mary at the foot of the cross on Calvary begging God's mercy for the dying soul, to plead that Jesus' Precious Blood may not be shed in vain.  To implore God's mercy for the dying of the world, especially those mostly in need of His mercy, dying sinners.
Mother Mary knew that God would support and strengthen her, for He knew that her one great desire was always to do His holy will.
The first few years in Rome were difficult ones.  The Sisters had to change residence several times before finding a place near the Basilica of St Mary Major where they remained for twelve years.
During these years Mother Mary, with the help of Father Cardella SJ, wrote the Constitutions of the Little Company of Mary.
In 1885 a group of six Sisters from England sailed to Australia at the invitation of Cardinal Moran.  Mother Mary travelled from Rome to see the Sisters when their ship docked at Naples.  Though Mother Mary was very ill at that time (she was recovering from typhoid fever) the doctor gave permission for her to travel, for he knew how much it meant to her to see these Sisters.  They were all so young – in their twenties.  Mother Mary told the Sister in charge to get a pair of glasses, and to wear them so that she would look a little older.
After seeing the Sisters off to Sydney from Naples, Mother Mary decided to travel back to Rome via the village of Genazzano to visit the shrine of Our Lady of Good Counsel.  It was a hazardous journey, especially after leaving the train when they encountered a bad thunderstorm and the coachman refused to go up the steep climb to the place of the shrine.  The Sisters accompanying Mother Mary were desperate because she was so exhausted and ill.  They had almost to threaten the coachman to get him to go on.
It was at the shrine of Our Lady of Good Counsel that Mother Mary received what she called a great 'Grace'.  The village locals who had seen Mother Mary carried into the Church the day before were astounded to see her up and walking independently into Mass and were heard to remark it was "un miracolo". Good health was restored to her.
In 1886 Mother Mary returned to England.  On 15 September she and the first four Sisters made final profession of vows.  Later that year, when she returned to Rome, Mother Mary began to close all the small outlying houses in England, bringing the Sisters back to the Mother House at Hyson Green, Nottingham.
In 1888 a house was opened in Limerick, Ireland.  Mother Mary went there for the opening, but on arrival had a lung haemorrhage, and was ordered back to Nottingham.  Her doctor there said that the cancer was making rapid progress and a winter in England was not to be considered.  He ordered Mother Mary back to Rome.
Bishop Bagshawe was not happy about Mother Mary returning to Rome.  He thought she should remain in England because the Mother House was there.  The doctor and others continued to urge her to return to Rome.  Mother Mary was torn, and sought guidance from her spiritual director, believing that whatever he advised would be the will of God.  Always for Mother Mary the will of God was all that mattered.
Despite her ill health Mother Mary was needed in Rome at that time, and so she set out on the long and trying journey once more.
It was not until 18 April 1893 that the Decree of the Final Approbation of the Rule was issued by the Pope. Mother Mary Potter was now the Superior General of the autonomous community answerable only to the authority of the Holy Father.
In 1903 The Mother House of the Little Company of Mary was established in Rome at Via San Stefano Rotondo and was opened in 1906.
Under Mother Mary's direction, many other Little Company of Mary foundations were made – Florence, Italy 1885; Sydney, Australia 1885; Limerick, Ireland 1888; Fiesole, Italy 1889; Chicago, USA 1893; Malta 1894; and Port Elizabeth, South Africa 1904.  Others were also made in England, and two were promised by Mother Mary, one in New Zealand and the other in Argentina, but these were not opened until after the death of Mother Mary in 1913.
The Little Company of Mary continued to expand all over the world, in Asia, Africa, Europe, the South Pacific and Caribbean countries, but always has it remained the ' Little' Company of Mary.  The number of Sisters has never been great.  Mother Mary always likened it to the small group who stood with Our Lady at the foot of the cross on Calvary.  It is there that they live out the spirit of the Congregation in the company of Mary the mother of Jesus.
This is the heritage, the charism, the life to be lived out always in union with Mary our Mother.